First of all, if you haven't heard… your morning routine is where the magic happens. This is the secret sauce to achieving success in the life you have right now, and the life you dream of living. When you wake up every morning owning your time, it sets a precedent for the entire day. If you do this  everyday, the momentum will take you anywhere you choose to go. It sends a message to the Universe that you are WOKE! You are ready to create peace, joy, health, wealth, and happiness. The best thing about it is that it's free and yours to keep; to grow, mold and develop, just as you do. Every successful woman has a morning routine to prime her for the day. You don't have to sit in meditation for two hours or run a half-marathon to get your day going. You can keep it simple and serene, but still super effective. Let's break it down...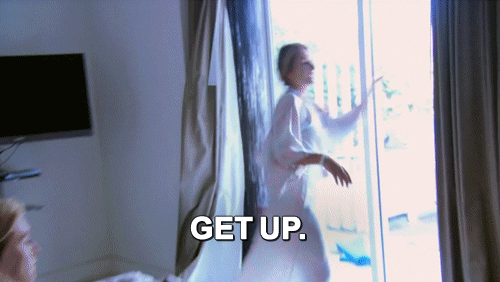 Wake up earlier and don't open that email/IG/FB/SNAP! 
This seems to be the hardest factor for creating change for most women. You're already tired, everybody needs you, and you haven't even gotten up yet. Time is our most precious resource, it's what people ask for on their deathbeds. Spend the waking hour on you - this is your life. Can we get our own shit together before we have to deal with everyone else's? Yes we can! As the great Maya Angelou said, "Nothing will work unless you do." So prepare your mind, body, and spirit for the day's work. Wake up earlier, this is your time. Milk it.
 MeditateSit your ass down! Stop running around like a crazy woman. Take some time here. Sit in a quiet space and focus your attention on your breath, your anchor. As the thoughts arise and you become aware you are lost in them, gently return your attention to your breath. It's impossible NOT to have thoughts btw, so don't waste your time trying to make them go away, or scolding yourself for having them. LET THAT SHIT GO, this is how you become more mindful. Observe your thoughts, release them, and bring your attention back to your anchor.
Journal
- While you sip on your tea or coffee, take the time to do some simple, old-fashioned journaling. Did you know if you write out your goals it's 42% more likely that you will achieve your goals and dreams? 42%!!  Girl, write out your 3 major things to accomplish for the day, a menu for the day, an intention or a mantra for the day, and last but definitely not least, write what you are truly grateful for. Filling your heart space with gratitude makes it nearly impossible to be occupied with any kind of petty-ass drama.
Move your body
- No better time to get moving than the morning. One, it's done. Two, it's done! No dreading having to do it all day, or feeling guilty that it didn't happen at the end of the day. You'll feel so damn good that you did it. No fancy gym memberships or yoga studio necessary for this one. Go for a walk, do some yoga on your floor, get some weights, hit a routine up on YouTube, the possibilities are endless #NOEXCUSES .
Shower
- Ain't nobody dope as me, I'm just so fresh, so clean! Rinse away the sleep and sweat, and renew your energy in the shower. Oprah says most of her best ideas come to her when she is in the shower. So get in there, girl!  Open your mind, expand your senses, nourish your body… and if you are really trying to get your day started, turn the shower ice cold for the last 20 seconds. A blast of invigorating energy coming at ya!
Express yo self
- Your fashion and your face. Who are you? What do you like? Whose rules are you following? You have beauty in you… you
are
beauty. We have one life, and it's our responsibility to make it beautiful in our own way. People want to know what you're about... what are you saying about yourself with your makeup... or no makeup… your clothes… or lack of clothing. You don't need to change who you are, but we all have the right to
express
who we are, so we should! Let the inner beauty match the outer beauty, intentionally.
      There are hundreds of ways you can create a self-care ritual or practice that works for you. Not everyday is perfect, not everyday will the stars align and allow this exact practice to take place, but the process is the goal. Do what works. Marianne WillIamson says, "Everything we do is infused with the energy with which we do it. If we are frantic, life will be frantic. If we're peaceful, life will be peaceful." Invest time in yourself so that you are not in reactive mode all day long. Choose to start the day with calm and clarity. Reacting all day to life's bullshit will exhaust you, guaranteed. Get ahead of it with your morning ritual. Nothing can topple the balance you create by tuning into your mind, body, and spirit. Your morning ritual should be able to travel the world with you, and transcend jobs, relationships, friendships, and leases. It will soon become the launching pad, so solid in its foundation that it will support and propel all of your big dreams. No time like the present, let's get it started!
Leave a comment
Comments will be approved before showing up.